The Elephant Goes Green 7+
A selection of five animated short films that provide a humorous and playful way for pupils to explore various aspects of sustainable development and nature conservation. With a wide variety of authors, styles and themes, the films expand our knowledge, stimulate our reflection and action, whilst connecting us in favour of a different, more sustainable development, which nowadays appears as a mandatory direction for the future of our planet.
Weasel
Podlasica
Timon Leder, Slovenia, 2016, 11'35", without dialogues
A hungry weasel attacks a flock of birds living on a tree, the last one still standing upright. The birds in the canopy are trying to keep the tree in balance, while the weasel is persistently trying to climb up its trunk. Its persistence is putting the tree's fragile balance ever more at risk, and its growling stomach is not letting up until it is too late.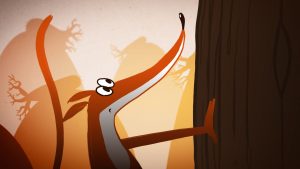 Oh, So Convenient
金方便捏
Hung Huei Jen Red, Taiwan, Estonia, 2022, 4'35", without dialogues
A man has a unique way of using toilet paper after pooping. A couple always orders food delivery because they don't like to put on clothes. A family has a way of avoiding washing dishes. A woman likes her table to be sparkly clean. Too much waste? No problem, flush it all down the toilet!
Orgiastic Hyper-Plastic
Paul Bush, Denmark, Great Britain, 2020, 6'50", in English with subtitles
An animated extravaganza of plastic collected from beaches, roadsides, attics and junk shops. This is an elegy to a love affair that has gone sour, a fond farewell to that most beautiful material that has enslaved our planet – plastic.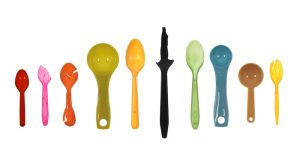 Hedgehogs and the City
Eži un lielpilsēta
Evalds Lacis, Latvia, 2013, 10', without dialogues
One spring morning, animals wake up from their winter sleep and find that their forest is taken over by people who have built a city there. They understand they need to find new survival strategies. How will they manage?
Pig
Varken
Jorn Leeuwerink, The Netherlands, 2022, 8'15'', without dialogues
A group of animals hook up a power grid to the socket-shaped snout of a large, sleeping pig. The animals use the pig's energy for simple things at first, but they are soon dependent on a city where everything is automated…